How Can I Tell What Size Pipe I Have?!
Need to order a system but don't know how to measure pipe size?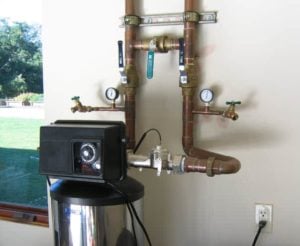 It is useful to know the size of your incoming pipes.  For instance, say you decide you want to install an iron filter system for your house.  They come in different pipe sizes, such as ¾" pipe, 1" pipe etc which refers generally to the pipe diameter.
It is easy to check the size of your pipes.  First, check on the pipe itself, often it will be labeled or written on the side or on a valve.  If not, you can measure copper pipe size and other water pipe sizes use the String Method.
The String Method
The string method (which measures the circumference of the pipe) is probably the best way to determine your pipe diameter size.  Circumference is the distance it takes to go around the pipe once.
Remove any insulation from the pipe.   Using a piece of string about 6" long (or a cloth tape measure) wrap the string around the pipe once and measure to the nearest 1/8 of an inch…
Once you have found the circumference, use the chart below to find your pipe or tube size.
Copper Pipe or PEX tubing
2.75″ (70mm) = 3/4″ pipe
3.53″ (90mm) = 1″ pipe
4.32″ (110mm) = 1 1/4″ pipe
5.10″ (130mm) = 1 1/2″ pipe
Steel Pipe or PVC Plastic Pipe
3.25″ (83mm) = 3/4″ pipe
4.00″(102mm) = 1″ pipe
5.00″(127mm) = 1 1/4″ pipe
6.00″(152mm) = 1 1/2″ pipe
Flexible (usually black) Polyethylene Pipe
2.96-3.33″ (75-85mm) = 3/4″ pipe
3.74-4.24″ (95-108mm) = 1″ pipe
4.90-5.57″ (124-141mm) = 1 1/4″ pipe
5.70-6.28″ (145-160mm) = 1 1/2″ pipe
Also, you can watch a how to measure pipe size and pipe diameter video on our Clean Water Store YouTube channel: