How Much Chlorine Should Be Added to a Storage Tank to Kill Bacteria?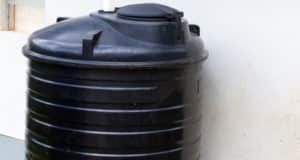 If you've been on well water for long, or have been reading this blog frequently, you already know that chlorine is one of the most effective disinfectant methods out there.
It's low-cost, safe, and fairly easy to manage in water systems, making it the go-to for homeowners and municipal water districts alike.  It's not just effective in water: chlorine can also be used to disinfect surfaces, pipes, and storage tanks in your home treatment system.  But how much chlorine is enough?  More importantly, how much is too much?
Today we'll run through the steps of sanitizing and disinfecting storage tanks, and how to determine the amount of chlorine necessary for your application.
1. Clean the storage tank or reservoir.  Remove debris and scrub hose off any dirt or other deposits on interior surfaces.  If possible, pump to remove any suspended solids or foreign matter in the water.
2. Scrub interior surfaces of storage tank/reservoir with a strong chlorine solution containing 1/2 gallon household bleach, or 1/4 gallon of pool chlorine, to every 5 gallons of water.
3. Inspect the storage tank for cracks/leaks around the lid, vents, or man-way.  Make sure no insects, rodents, or debris can enter the tank during its normal operation by properly screening any vents and tightly sealing the lid.
4. Use the charts below to add the right amount of chlorine bleach to your tank and bring the chlorine residual in the tank to the desired level.
5. If you have time, bring the chlorine levels in your tank to 5 or 10 ppm and let sit for 12 hours or more.  If a thorough disinfection is needed, but time is short, use a 50 or 100 ppm residual and let sit for 2 – 6 hours.  Be sure to drain and flush your tank when using these higher chlorine levels, and avoid draining to septic tanks or into creeks, rivers, or lakes.
6. Be careful if you have a steel storage tank, as they can corrode with use over time and develop leaks after sanitation with chlorine.
7. If your well is a low producer, consider having water trucked in.  It's often cheaper to do so, and will prevent stress on your well from refilling the holding tank.
For maintenance of your tank, consider cleaning and sanitizing at least once per year.
We hope this information helps you achieve clean, disinfected tanks and an efficient and sanitary whole house water filtration system.
For any related questions or comments, e-mail us at [email protected], leave us a comment/message on Facebook, or use our online contact form.  We're here to help!
Also Read Our  How To Guide: How Much Chlorine To Add to Storage Tanks to Kill Bacteria